Your source for Clean-Flush® technology
This sturdy and portable service cart is self contained, providing complete toilet servicing in less than three minutes. Made of aluminum and PVC, it is designed with quick disconnect hoses that attach readily to aircraft service ports. The waste container's unique tilt-design provides effortless and hygienic disposal of waste products in any standard bathroom.
Specifications:
90 pounds (dry)
19″ W, 18″ D, 48″ H
6-gallon waste fluid capacity
4-gallon replenishment reservoir
Built-in battery supplies a 12 vdc, 40 psi pump to refresh toilet reservoir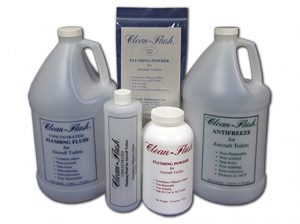 Neutralize Odors
Conventional (re-circulating) aircraft toilets do not effectively control offensive odors. Attempting to mask such odors with perfume-like chemicals succeeds only in leaving an unpleasant after-odor. Clean-Flush® is the best deodorizing product available.