Clean-Flush® Aircraft Self-Contained Flushing Toilet Systems
Aircraft Technologies, Inc.'s extensive line of Clean-Flush® toilet systems offer the installer a variety of installation schemes, weights, capacities, and the option for internal or external service. All units are lightweight – between 8.5 and 14.5 pounds – with sealed containers for odor control, and guaranteed against defects in both workmanship and materials.
Self Contained Toilet System Models
Hygienically Superior: Clean-Flush® aircraft toilet is a dual compartment toilet with separate compartments for bowl rinse fluid and waste products. Single compartment re-circulating toilets rinse the bowl with strained waste products and heavily scented additives.
Self Contained: Requires no costly external plumbing or ground support equipment.
Reliability: Because the flushing system is separate from the waste, it does not require strainers, filters or special tissues. Clean-Flush® reliable aviation toilet will never have a stopped up strainer or other problems of a complex filtering system.
Ease of Installation: The Clean-Flush® dual compartment aircraft toilet unitized design results in substantial savings on installation costs.
Construction: Clean-Flush® dual compartment aircraft toilet toilet systems are made of tough molded plastic and composite materials for a maximum strength-to-weight ratio. Units meet FAR 25.853(a) self-extinguishing specifications.
Guarantee: All Clean-Flush® dual compartment aircraft toilets carry a one year guarantee against defects in workmanship and materials.
Selection: A variety of shapes and sizes are available to fit most corporate aircraft. The Model 9 models provide large capacity, while the Model 31A and Model 50 are more compact with slightly reduced capacity.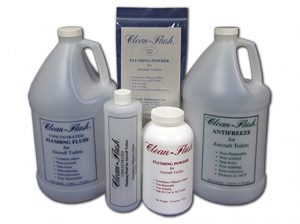 Neutralize Odors
Conventional (re-circulating) aircraft toilets do not effectively control offensive odors. Attempting to mask such odors with perfume-like chemicals succeeds only in leaving an unpleasant after-odor. Clean-Flush® is the best deodorizing product available.